Membership in Alpha Delta Pi is a lifetime experience. Alumnae of our chapter, known as Pi members, go on to pursue a diverse range of careers and post-graduate plans. Epsilon Epsilon loves our alumnae, and cherishes our bonds with these special sisters!
Alumnae of the Epsilon Epsilon Chapter are invited to attend the following: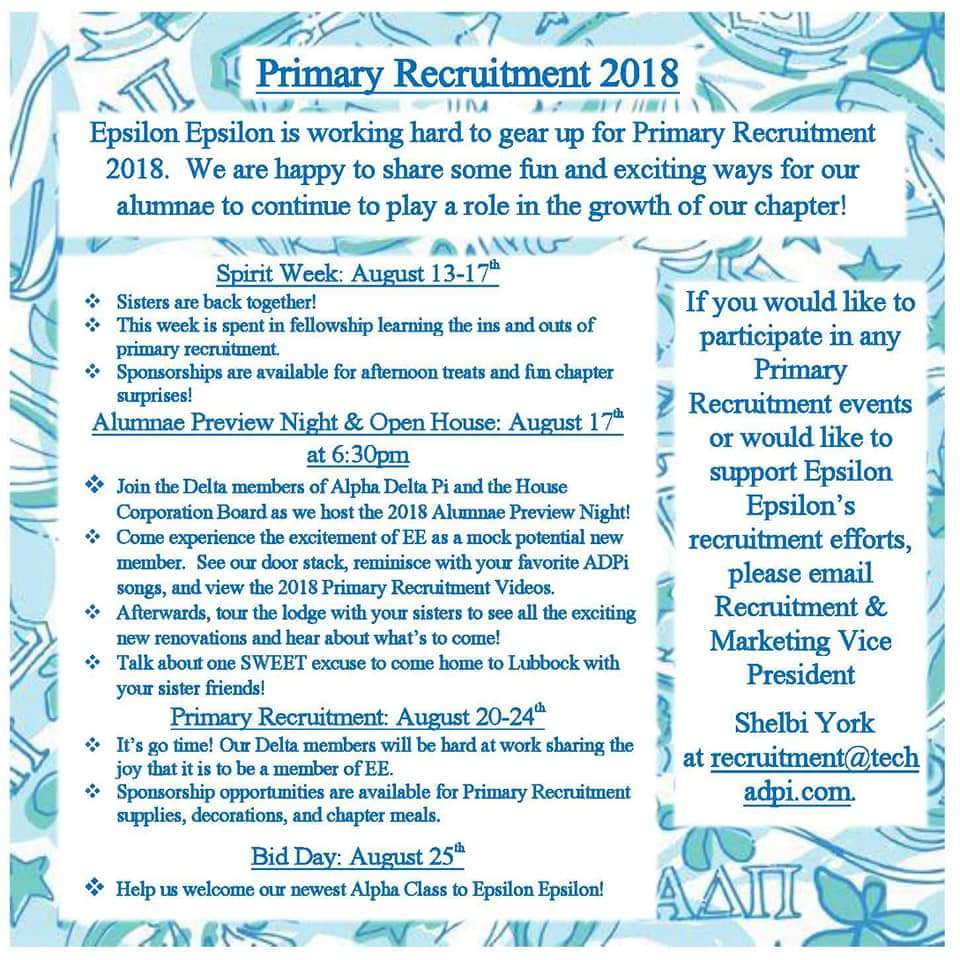 The House Corporation Board would like to thank the following women for their generous monetary donations to the House Corporation in the 2016-2017 year!
Marsha Akers
Katherine Weller Barney
Lisa Prince Benjamin
Susan Meade Bennett
Linda Braus-Antcliff
Jan Hood Broome
Rise Lara Candelaria
Shelby Caskey
Elizabeth Disch
Bobbie Fealy
Earlene Garland
Anne Gepford
Karen Kleppe Graham
Lindy Lauderdale
Penelope Warner Luddecke
Diane Martin
Sidney Williamson McKamie
Laura Moreno
Laurie Foreman Peake
Elizabeth Moser Powell
Keri Smathers Pye
Karen White Rhoden
Susan Dunn Richardson
Karen Helmke Rogers
Jill Miller Roth
Colleen Sims
Lisa Ann Smith
Gail Shirey Thames
Melissa Williams Urban
Carolyn Miles Wallach
Kathy Nolen Wiesner
Kristen Thompson Williams
Stacy Ann Williams
Julie Robinson Wilson
Camille David Zihlman
Linda Knepley Zukauckas
A special thank you to the Houston and Lubbock Alumnae Associations for your generous gifts during recruitment last year!
It's not just four years, it's for life!