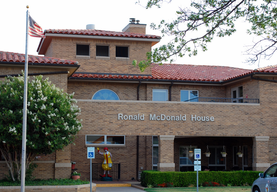 Since 1979, Alpha Delta Pi has been committed to serving Ronald McDonald House Charities. Over the course of our partnership, Alpha Delta Pi has contributed more than $10 million to this worthwhile cause.
Something unique about Epsilon Epsilon is that we have the incredible honor of working hands-on with our philanthropy right here in Lubbock at Ronald McDonald House Charities of the Southwest! Our sisters help support families of children undergoing medical treatment by cooking meals twice a month and providing emotional support and personal care during their time of need. We also have many sisters who volunteer in the Family Rooms located inside of each of our local hospitals. Throughout the 2018 spring semester, Epsilon Epsilon girls spent 140 hours making a difference with our beloved charity.
Throughout the year, Epsilon Epsilon hosts many events that contribute to the over 1.3 million dollars raised each year by Alpha Delta Pi nationally. Check out some of our favorite philanthropy events below!
Kickin' It is our annual kickball tournament. At this fall tournament style event, sisters organize teams from the Texas Tech community to compete for the ultimate championship spot. Furry friends are always welcome! Amount earned for RMH: $1,627!
Our annual springtime cookout and puppy fest. This past spring, we partnered with the men of Phi Kappa Sigma fraternity. Together, we earned $2,376 to split between our respective philanthropies, Ronald McDonald House and the Leukemia and Lymphoma Society, thus netting $1,188 for each charity!
Flash Light Dash is a 5k color run throughout the TTU campus. Our sisters choose runners from the Texas Tech community. Colors are thrown at the end when each runner finishes! We are proud to have raised $13,414 for RMH at our most recent Flash Light Dash in 2016.
ADPi combines our love for the Texas Tech community with our love for philanthropy by spreading cheer at tabling events! Our tables can be found in the Free Speech Area outside of the Student Union Building when we hold these events. Our two spring tabling fundraisers this year were "Roses for Ronald" and "ADPi Poppin' in to say Hi!" Through these two events, we were able to raise over $400 to benefit the Ronald McDonald House Charities and families!
Giveback events are fundraisers held at local restaurant franchises. We partner with a franchise and they agree to donate a percentage of each customer's meal if they mention ADPi at the register! This past year we partnered with Chipotle, Twisted Root Burger Co., Raising Cane's, and Heff's Burgers to name a few. We do these several times per semester and you can find the announcements on any of our social media platforms! From our giveback nights in the spring 2018 semester alone, we earned $891.75 for RMH with the help of the Lubbock community!