Why Alpha Delta Pi?
Come home to Alpha Delta Pi and find women who are true and loyal, just like our blue and white colors represent.
Joining Alpha Delta Pi enables members to find their home away from home, which is important to any collegian, especially at a school as large as Texas Tech. This year, Alpha Delta Pi celebrates 52 years of sisterhood on the Texas Tech campus, where women have found lifelong friendships, committed to service, and strived for high academic achievement.
Recruitment Dates: August 19-25, 2018
Formal Recruitment occurs each fall, before the start of the new semester. This is when potential new members have an opportunity to visit each sorority house, experience sisterhood through planned activities, and ask questions in an effort to get to know each chapter's philanthropy and social activities.
For any questions regarding costs, frequently asked questions, an attire schedule, or to sign up for Recruitment at Texas Tech, please visit the Texas Tech Panhellenic website.​
Shelbi York, Recruitment & Marketing Vice President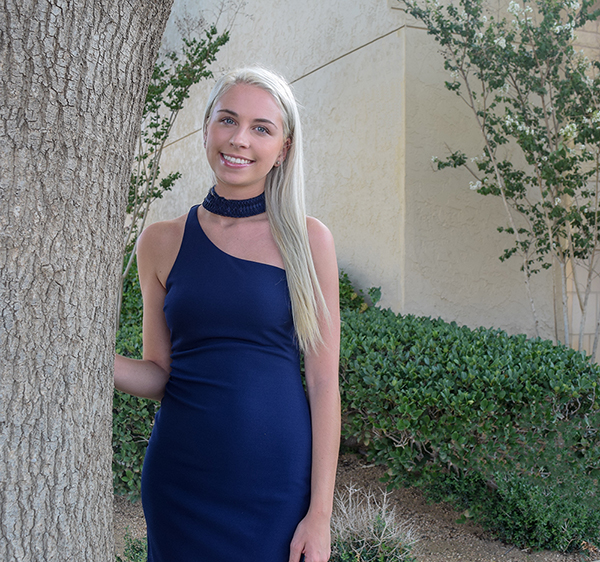 Dear Potential New Members,
On behalf of the Epsilon Epsilon Chapter of Alpha Delta Pi, I am thrilled to welcome you to Texas Tech's Panhellenic Recruitment process. Three years ago, I was in your shoes: both nervous and excited about my journey here at Texas Tech. The experience of going through recruitment and joining a sorority was undoubtedly the best decision I made; it allowed me to find my place and a community in which I belong.
As a member of Alpha Delta Pi, I have grown as a leader and become a more confident person. Within these walls, I found my best friends, my travel buddies, my role models, and my support system. This organization has provided me with more memories and experiences than I could have ever imagined, and for that I am forever grateful!
Recruitment is an incredible chance for you to see what our sisterhood is all about and how you can find your own home away from home in Lubbock. I encourage each and every one of you to take advantage of this life-changing opportunity that will provide you with everything you need to make your college experience unforgettable! I speak for not only myself, but for Epsilon Epsilon as a whole when I say that we cannot wait to meet you in the fall! I hope you find your home just like I have found mine!
Loyally,
Shelbi York
For more information, contact Shelbi!
Letters of Recommendation
Alpha Delta Pi alumnae wishing to write a letter of recommendation can find the form by visiting www.alphadeltapi.org.
Once there, click on the "Alumnae" tab on the top left of the screen. Then, click the "Recommend" button, where the Potential Member Recommendation Form and other legacy information can be found.
​
Please mail completed recommendations to:
Alpha Delta Pi
#18 Greek Circle
Lubbock, Texas 79416